Online map, information for downloading and route profile
Download our Mjølkevegen brochure as pdf-files (front side with an overview map and back side with route descriptions and information) by clicking the following thumbnail images: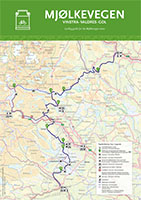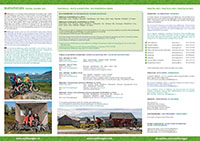 Download the route profile of the entire Mjølkevegen (via Slettefjellet) by clicking the following thumbnail image: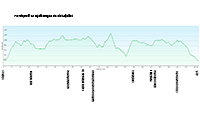 GPX-tracks of the entire route for downloading:
Mjølkevegen via Slettefjellet
Mjølkevegen via Tyin (NB! The track includes the boat passage. This is not to be cycled!)
If you should experience problems with the downloaded track, please contact us via email at info@visitvaldres.no and we will send the tarck to you as an attachment. This usually works.
Stages and elevation gain (in meters):
Vinstra st.-Ruten ca. 29 km / 1089 m
alt. route Lemonsjø−Ruten ca. 59 km / 970 hm
Ruten−Haugseter ca. 47 km / 933 m
Haugseter−Bygdin ca. 14 km / 219 m
via Tyin
Eidsbugarden−Tyinholmen ca. 3,5 km / 75 m
Tyinholmen−Tyinkrysset ca. 20 km / 161 m
Tyinkrysset−Ryfoss ca. 41 km / 678 m

Bygdin−Beitostølen ca. 12 km / 142 m
via Slettefjellet
Beitostølen−Ryfoss ca. 36 km / 873 m

Ryfoss−Syndinstøga ca. 10 km / 656 m
Syndinstøga−Vaset ca. 20 km / 228 m
Vaset−Storefjell via Gauklie ca. 30 km / 600 m
Vaset−Storefjell via Langestølen ca. 34 km / 811 m
Storefjell−Gol stasjon ca. 24 km / 125 m
The route in total (Vinstra-Gol via Slettefjellet): approx. 220 km / 4865 m
Paper cycling map
Cycling map for Mjølkevegen 1:100 000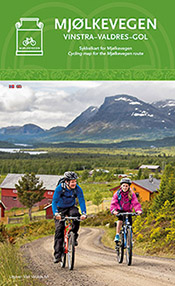 Map published by Visit Valdres. Price: NOK 199,-
The map is obtainable from the Mjølkevegen accommodations along the route, the tourist offices at Fagernes and Beitostølen, the Intersport stores belonging to Fjellkjeden, the Joker supermarked at Vaset and the book store at Fagernes.