Fagernes is the regional center in Valdres. With its unique location next to Strandefjorden, Fagernes is a lovely destination both summer and winter. In Fagernes you will find small niche boutiques, cafés and beauty and wellness providers. In the heart of Fagernes lies the Fagernes park, where you can find a summer kiosk, pétanque course, walking path, playground and a very popular skatepark. A walk to the peaceful small island Vesleøye is recommended, where you can enjoy both the sun and the water! In the middle of the city center you will find Fagernes Mall with 20 modern stores and a nice café on the second floor. If you follow the path across the river, you'll find Valdres Folk Museum and the idyllic Fagernes Campground. You can even fish on your way there! You can find a large parking lot within a two-minute walking distance from the Fagernes park. Enjoy Fagernes throughout all four seasons, there is something for everyone!
Not far from Fagernes, you will find the neighboring town of Leira, which is a part of the regional center Fagernes. Leira is an important area for shopping with Amfi Valdres shopping mall, and large chain stores, such as Elkjøp, Interiørsenteret Valdres and Jysk. You can walk between Leira and Fagernes on a walking and biking path which runs along Strandefjorden. In and around Leira you'll find idyllic campgrounds, cabin rental, a beautiful and family-friendly beach, and great fishing and hiking opportunities along Fløafjorden. Valdres Storhall has a frisbee golf course, mountain bike trails, and indoor activities both summer and winter.
Valdres Folk Museum
Valdres folk museum is one of the largest museums of its kind in Norway and has more than 100 old buildings. The museum is located at the idyllic Storøya which is within walking distance of Fagernes city center. The museum café Munkekroen offers food of the highest quality, often traditional dishes, and made with local produce.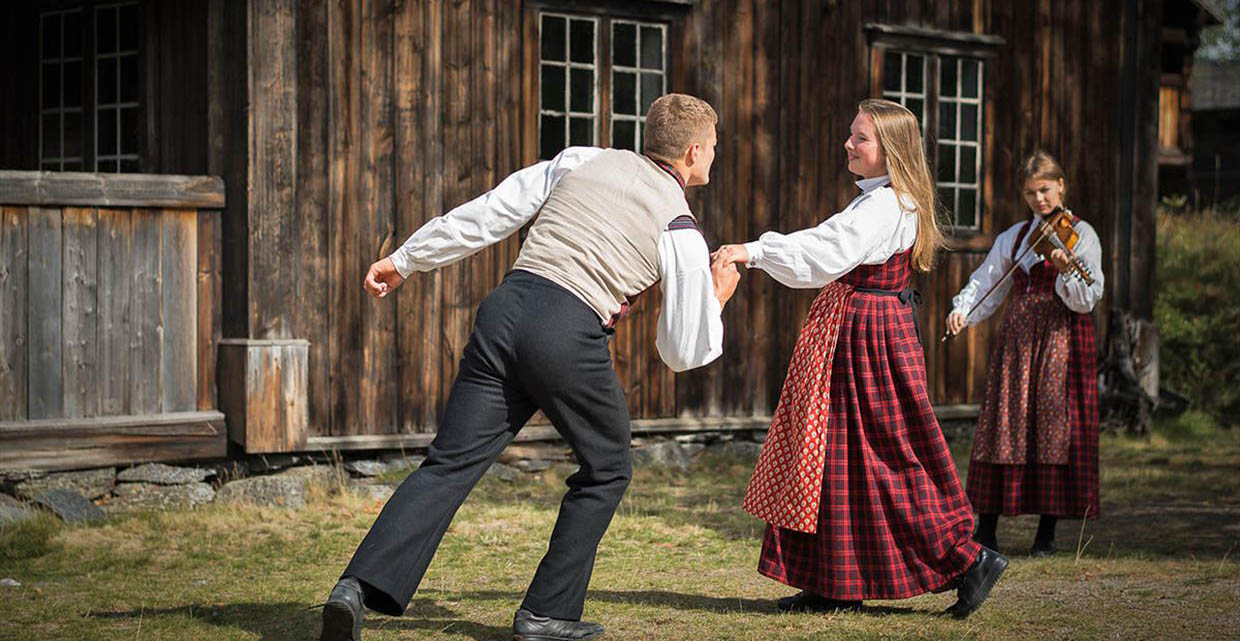 Fagernesparken and Vesleøya
On lazy summer days, the park and Vesleøya are wonderful havens. In the park you will find a playground, a beach volleyball court, an idyllic beach promenade and of course the Strandefjord, which often offers pleasant temperatures. In the middle of the city centre, but still sheltered from all traffic, the summer day can slip by at exactly the pace you want. Vesleøya is a peaceful small island, where you can explore, relax and swim.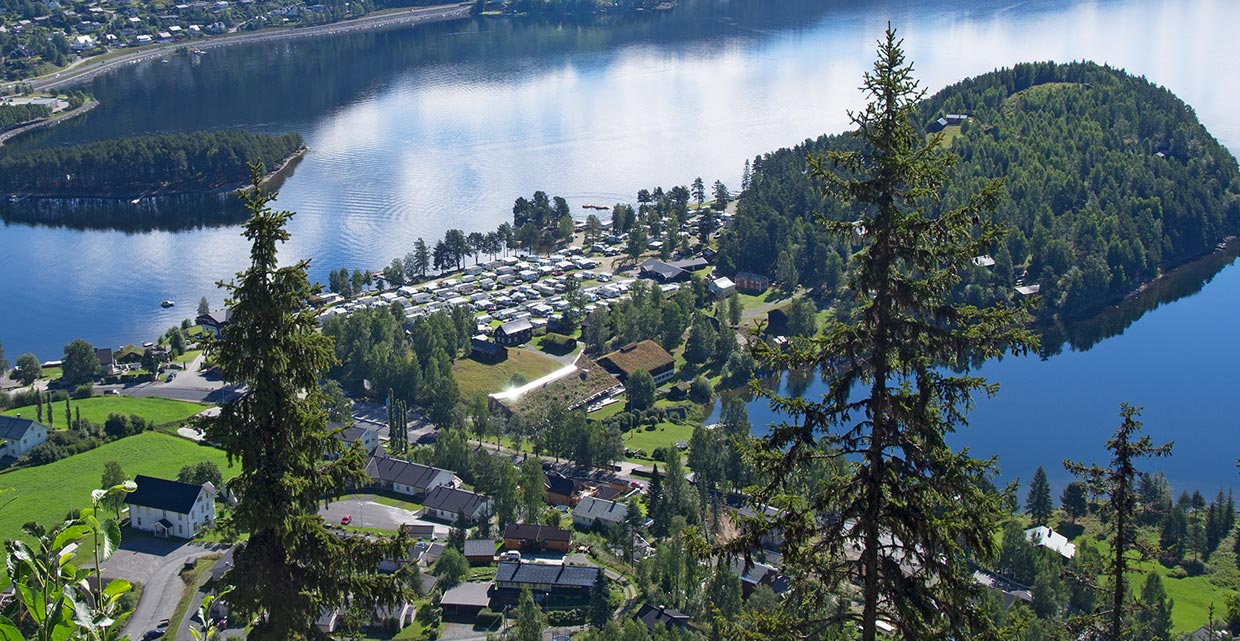 Leirasanden
Leirasanden is a family-friendly sandy beach at Valdres Camping in Leira. It even has a small island you can swim to. The beach has some processed sand, but there are also large open areas where it is possible to find a private small beach. There is also a dock where it is possible to moor your boat.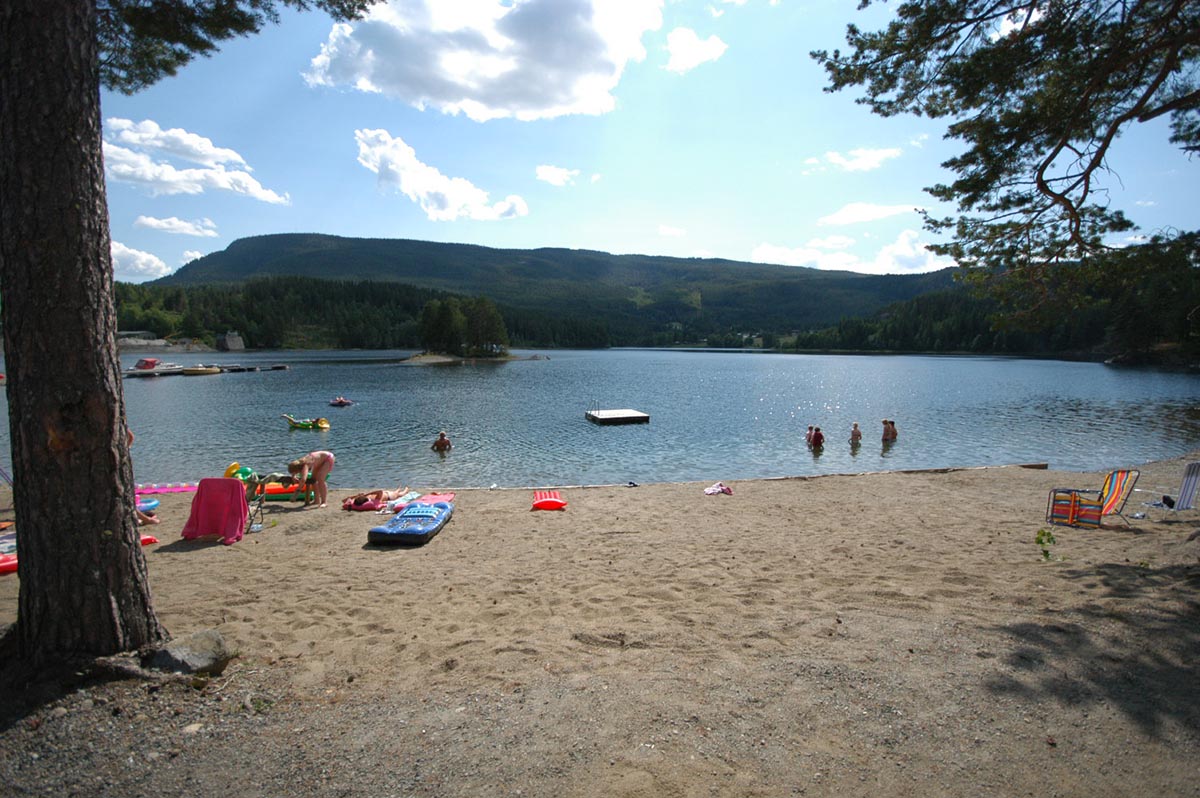 Kviteberg
When you get tired of lazy days in the park, you can hike up to the pavilion at Kviteberg. It is not a very long trip (approx. 1,5 hours), but offers an exceptional view over Fagernes, Leira and Strandefjorden. The path is clearly signed and has information boards along the way. If you want a longer hike, follow the suggested roundtrip in the hike description.
The Mountainflag (Bergflagget) at Leira
This is a nice little hike where you can experience a little bit of history. The mountain flags in Valdres are painted for various reasons. The flag at Leira was painted in 1905 and unveiled on 17th May of the same year. The walk is signposted from the footpath by Amfi Valdres.
Fagernes Kulturhus and Cinema
Fagernes Kulturhus is Nord-Aurdal municipality's main arena for cultural experiences, such as concerts, conferences, theatre and cinema.
Valdres Treningssenter
Valdres Treningssenter offers a variety of services and facilities, including group exercise classes, swimming pool, sauna and massage. It is located in the Valdres Hotel.
Valdres Storhall
In Valdres Storhall at Leira you will find multiple activities for both children and adults, such as a climbing wall, hiking path, bike path, disc golf, and equipment rental. Valdres Storhall and BUA are also open during the summer and is a great place to spend a rainy day.